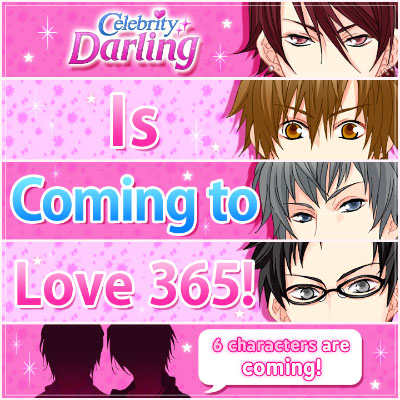 Voltage Inc. has officially announced the upcoming release of Celebrity Darling in Love 365!
Though it still has yet to be added to the schedule, it is stated that the release is "right around the corner".
Keen-eyed fans will also notice that, with this announcement, only six of the seven main cast will be available.
Too bad for Ryuji, huh?
All other obtainable characters will still be available, which are
Sho Kiriya (19), rock star of the band Wave
Hayato Shiratori (21), a popular young actor
Haru Shindo (Undisclosed), vocalist of the band JADE
Shinnosuke Ichijo (27), straight-man of the comedy duo Uji Matcha
Lee Ha-neul (25), a Korean actor
Natsuki Orihara (27), leader and guitarist of the band JADE
with Kyosuke Nakanishi and Teppei Yamada obtainable in one Special Story.
My source says that Ryuji being released in English is still very likely, though he might just not be available immediately after the release of the title. This isn't much of a surprise considering that Love 365 is now capable of continuing stories regardless of their popularity or profit.
Also, a reminder: The story written in this game is different than the one used in Celebrity Darling for GREE!
Happy playing!