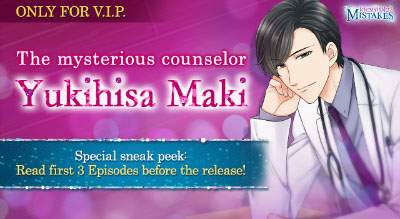 The V.I.P. Room has been updated!
Wondering about whether or not this month's Pass is worth buying?
This month, Voltage has released a three-episode sneak peek for Yukihisa Maki's Main Story in Irresistible Mistakes, which is set to release next month.
Only able to connect through physical pleasure, he can't understand peoples' feelings.

Despite all that, it only took one night for you to become his "friend".

What will become of your "relationship" with Dr. Maki now…?
That's it for now in the month of November!
Interested in this month's goodies?
Access to the V.I.P. Room and its contents is only available after purchasing the Monthly Access Pass within the Love 365 app ($8.99 USD). Head on over to the app and tap "V.I.P. Room" on the Menu to either access the content or to subscribe and become a Monthly Access Pass Holder!
*Make sure you read all terms, conditions, and question answers before subscribing.
Happy playing!