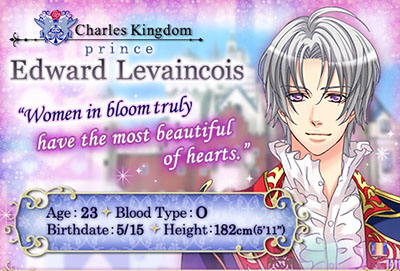 (Please take into consideration that I haven't completed this route using this guide, but these answers should be correct. If they are not, please feel free to let me know so that it can be corrected.)
Episode 1: The Vision of a Prince
B: Why was I chosen?
A: "Are you all right?"
Episode 2: Under the Moonlight
A: Keep the dress on.
A: Ask
Episode 3: Secret City Date
A: You mean you don't wear silk?
A: The dressy side gore boots.
Episode 4: Invitations & Secret Places
A: Refuse politely.
A: All right! I'll come up with something!
Episode 5: Wrapped in a Blanket
B: Ask.
B: Bring Prince Edward.
Episode 6: A Kiss on the Hand
A: Thank you for your concern.
A: Oh, that's just my secret hiding place.
Episode 7: Present & Reality
A: Ask him about his childhood.
A: Ask him to help pack.
Episode 8: Jealousy's First Kiss
A: Can you write an article about our collection?
A: Skills
Episode 9: A Wealth of Emotions
A: You're working late, Your Highness.
A: The Brotherhood…
Episode 10: The Foolish Prince
A: Tell him to go after her.
B: I'll take your questions!
Episode 11: Missteps to the Future
A: Stay at the party.
A: Answer the phone.
Episode 12: For Us…
A: We should do that again.
A: Joke.
Episode 13: After We Part
B: I didn't think it would be over so fast.
B: Answer the door yourself.
Episode 14: Rooms of Our Happiness
A: I don't want to be a burden to you.
B: Change the topic.
Episode 15: One Last Chance
No selection
Epilogue: Let Us Be a Family
No selection