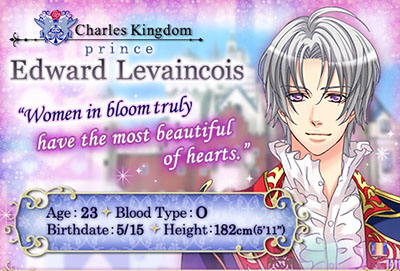 And with that, we'll have all six Princes!
Again, like with everything else in Be My Princess: PARTY, there won't be any voices in his route. Which is also a shame because I also like Okitsu Kazuyuki as Edward! There might also be a release campaign for him just as there was for Glenn. I will try to get the guide for his route up as soon as possible. Seeing as there's currently a campaign for Zen stories in Love Tiara that includes Zen's Main Story… there's a chance we might just get that one, too! If it wins, that is. As to when we'll get it, I'm not sure, seeing as the Dreamland Town Event should be coming really soon and we still don't have Edward released yet.
There hasn't been any official announcement on the release yet, so keep your eyes open for any announcements on Voltage Inc.'s PARTY series Facebook page and the news section of Be My Princess: PARTY'S Top page!