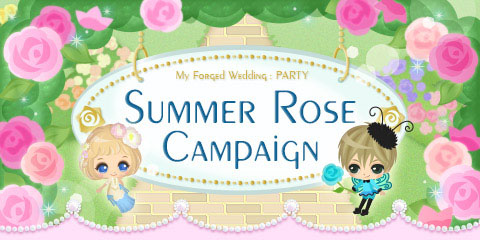 There's a new campaign in My Forged Wedding: PARTY!
Campaign Period: 6/1~6/15 3:00 A.M. (UTC)
Collecting

Like in Reform Campaigns, you need to collect items (Summer Rose Items in this case) by playing the June Bride Event.
While playing, you will get
1 Summer Rose Point for reading the end of Episode 1 and 2
5 Summer Rose Points for clearing each Avatar Mission
5 Summer Rose Points for reading the Normal End
10 Summer Rose Points for reading the Happy End
You can also receive Summer Rose Points by
Bonus Chance at the Event Battle
Spinning the Interior Gacha
1st, 3rd, 7th, 8th, 11th, and 15th Login Bonus
Prizes
Collecting Summer Rose pts will allow you to receive special avatar items. In between, you will also receive other items such as Mari, Gacha Medals, Aroma Massage, Love Rings, Closet Space, Warehouse Space, and a Campaign Bonus Set Item.
As you collect Summer Rose pts, you will receive
Summer Rose Pearl Bag when you collect 60 Summer Rose pts
Laced Parasol when you collect 130 Summer Rose pts
Rose Arch when you collect 250 Summer Rose pts
Bustle Dress when you collect 500 Summer Rose pts
All collected avatar items together total out to 400 Charm.
Complete List
Here is the complete list of prizes and the amount of Summer Rose pts needed to receive them:
| | |
| --- | --- |
| 20pt | Warehouse (1 Slot) |
| 40pt | Closet (1 Slot) |
| 60pt | Summer Rose Pearl Bag |
| 80pt | Mari 500 |
| 100pt | Gacha Medal |
| 130pt | Laced Parasol |
| 160pt | Closet (1 Slot) |
| 200pt | Aroma Massage (100UP) |
| 250pt | Rose Arch |
| 300pt | Gacha Medal x 3 |
| 400pt | Summer Rose CP Bonus Set |
| 500pt | Bustle Dress |
Happy playing!