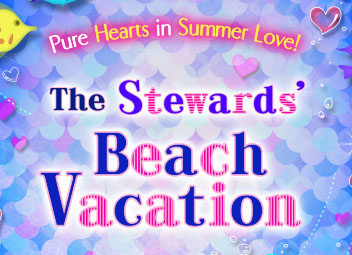 Here comes another event! And finally, a (mostly) Butler-centric one! For those wondering: This is another event that had already been released in the original Japanese version, but never had an English release.
Here's what I know so far:
All seven Butlers will be available.

There will be four routes with two characters per route as below

Claude & Yu
Luke & Jan
Alberto & Louis
Zen and The Princes

Each will have three stages.
Each will have two endings: A Happy End and a Secret Happy End.

In the Secret Happy End, you will spend it with Claude, Jan, Alberto, or Zen.
In the Happy End, you will spend it with Yu, Luke, Louis, or the Princes.

There is only one CG, which is a group illustration with all the Butlers on the beach. You can get this by clearing all endings.
Event Battles will use the same system as previous events. Like with the Birthday Events, if you go on a certain number of successful Dates, you will get a castle for your Town.
There is no Gacha.
One background will be available as Completion/Bonus Items. You will get the one background by completing all Secret Happy Endings.
The Early Clear Bonus and Ranking rewards are beach/summer-themed mini-Butler avatar items. The Ranking reward is a Hibiscus Gown.
I still don't know much, but I wouldn't put it past Voltage Inc. to begin the event very soon after the current Event ends (even though Love Tiara players got a bit of a break). I'll update again if I get more before it starts, but no guarantees. I will post the guide in the Be My Princess: PARTY Guides page under the Current Event Guides section when I can and will leave it there until I can get the Event Info post up, so be on the lookout for it!
Happy playing!