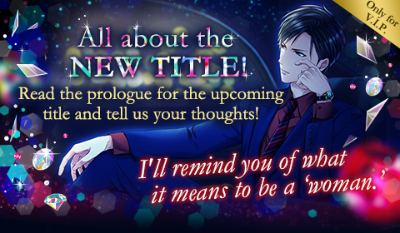 The V.I.P. Room has been updated!
Wondering about whether or not this month's Pass is worth buying?
This month, Voltage has released the Prologue to the upcoming title, Kings of Paradise (JP: 至極の男~もう一度愛される夜).
I thought I was done with love… He proved me wrong.

Newly divorced, you're thrust into a glamorous paradise, ruled by an exceptional man.

Are you ready to burn in the fires of love again?
As usual, Voltage has also provided a survey to answer once you have completed the Prologue. Questions in the survey are:
How do you feel about this title's content/theme?
Which character is your favorite so far?
What did you think of the heroine?
How do you find out about our newest releases?
How would you prefer this title's release schedule to look?
(A)ny ideas for campaigns, etc. for this title?
Any improvements Voltage can make?
That's it for the month of May!
Interested in this month's goodies?
Access to the V.I.P. Room and its contents is only available after purchasing the Monthly Access Pass within the Love 365 app ($8.99 USD). Head on over to the app and tap "V.I.P. Room" on the Menu to either access the content or to subscribe and become a Monthly Access Pass Holder!
*Make sure you read all terms, conditions, and question answers before subscribing.
Happy playing!