As the adopted daughter of the Police Chief Commissioner…
Your newfound social status introduces you to the glittering socialite world of well known politicians, and famous celebrities.
Whereas your occupation as a detective, exposes you to an underground society, full of crime, and intrigue.
Your eventful, action-packed lifestyle, leaves you susceptible to danger, putting you at risk with no time for romance.
So when you receive a call from your father, asking you to meet him in his office…
…you never expected love to come your way.
But things are not always what they seem, especially when it comes to matters of the heart.
What mysteries surround the men that come into your life?
Can you wade through all the lies and deceit to find the truth?
Or…
Will your love lead you on a destructive path of heartbreak, misery…and death?
Agent of Love is a mobile Josei otome game developed by Delusional Inc., an indie Visual Novel developer based in Sydney, Australia. This will be their first game, with an expected release in 2018 on the App Store and Google Play Store. Delusional Inc. aims to tell stories in the Josei genre that consists of more mature storytelling and explore darker themes while also delivering a roller-coaster ride of emotions to players of their works.
The game will have five love interests with an expected aim of having more than one Season. Each Season will be made up of eight stories:
Main Story
His PoV
Epilogue
Epilogue Secret Ending (a special ending written to cater to smut lovers)
Sequel
His POV Sequel
Sequel Epilogue
Sequel Epilogue Secret Ending (another special ending written to cater to smut lovers).
Each Main Story and Sequel will have three endings: Happy End, Normal End, and Bad End. The ending you reach will be dependent on the choices made during the gameplay. All Unlocked endings will also be available for purchase.
So far, Delusional has revealed two of the five love interests: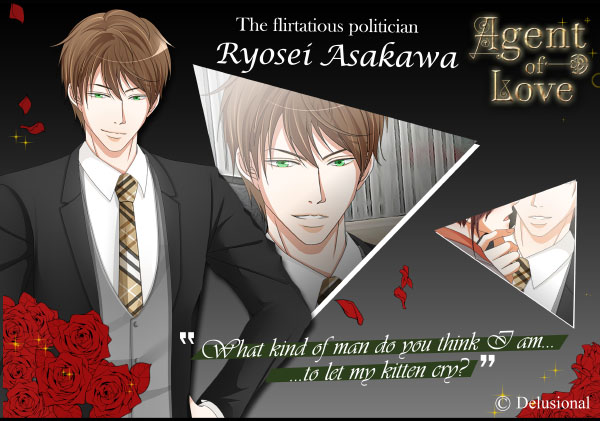 Age: 28
Birthday: 19 April
Star Sign: Aries
Blood Type: B
A flirtatious politician and socialite, who's also your childhood friend.
You're assigned to protect him, but who will protect you from his beguiling charms?
Chapters: 22
Age: 35
Birthday: 22 November
Star Sign: Sagittarius
Blood Type: A
A mature, kind, doctor with a soft and gentle smile.
He's always been there for you to heal your wounds, but are you able to heal his wounded soul?
Chapters: TBA
The next love interest is to be revealed within the next five weeks.
Agent of Love will be commercially available for iOS and Android devices with the Prologue and first chapters of each love interest for free. It will use in-app purchases to buy stories for a one-time fee.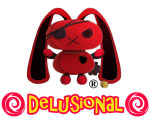 Watch a GUI test of the game: https://youtu.be/WAGqB6xijQ0
Follow Delusional on the below sites for game progress and updates.
Facebook: https://www.facebook.com/delusionalinc
Tumblr: https://delusionalinc.tumblr.com
Twitter: https://twitter.com/DelusionalInc
Instagram: https://www.instagram.com/delusionalinc
Website: www.delusionalinc.com
Contact Delusional here
http://www.delusionalinc.com/index.php/publicweb/contact