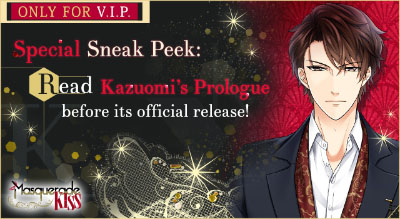 Wondering about whether or not this month's Pass is worth buying?
Voltage has updated this month's VIP Room with an early release of Kazuomi's Prologue.
Dark Rumors Hide a Wicked Man

Said to control political & financial circles from the shaows with an infamous gang at his beck and call… The CIA has their hands full with this one, so you make your move to uncover his possible drug deals…

Who will win in this dangerous love game?

Identity hidden, you make your approach, but Kazuomi has a "wager" for you… Is he onto you?

There's no greater thrill than exposing a woman's secret.
Masquerade Kiss is set to release in February.
That's it for now in the month of January!
Interested in this month's goodies?
Access to the V.I.P. Room and its contents is only available after purchasing the Monthly Access Pass within the Love 365 app ($8.99 USD). Head on over to the app and tap "V.I.P. Room" on the Menu to either access the content or to subscribe and become a Monthly Access Pass Holder!
*Make sure you read all terms, conditions, and question answers before subscribing.
Happy playing!