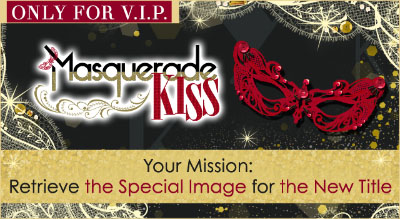 The V.I.P. Room has been updated!
Wondering about whether or not this month's Pass is worth buying?
This month, Voltage announces the release of the upcoming title, Masquerade Kiss.
By day, you're just your average, Tom Cruise-obsessed woman…
By night, however, you're the EAC's most elite secret agent!

Your mission, should you choose to accept it, is to uncover the evil that lurks in the shadows of three powerful men.
The announcement comes with a short description of the heroine:
At Work:

A perfectionist and ethical elite secret agent who joined the EAC shortly after being rescued by Boss in her school years and has a wealth of successful jobs under her belt. The more challenging the mission, the better.

Special Skill: Can play the part of any woman
Policy: Never uses her body to complete an objective

In Private:

Loves sugary garbage and scatterbrained, tough and dependable, she's the "older sister" type. While the ladies love her, she has issues trusting others… (Ex-boyfriends never felt needed by her…)

Likes: Western TV shows/movies, Tom Cruise
Secret: Late-night ice cream binges, secretly obsessed with Boss
A small character profile of the guys is also included, so far only having Kazuomi's available with the other two coming soon. The information is the same as my previous post about Maquerade Kiss and adding a bit more:
Age: 33
Personality: A Gaudy & Imperious Womanizer
Occupation: Resort Operation
Details: VIP-Exclusive Luxury Resort Operator; Owner of "Raven Resort Group"; Net worth 79-billion. (3rd richest man in world)
Femail Relationships: Actresses, Foreign dignitaries, Daughters of powerful men, Wives of company CEOs… There is no shortage of rumors.

<!> Quick with women. Best keep your guard up.
Accompanying the announcement is also a special image consisting of the Masquerade Kiss title, which is available until 2/3 23:59 JST.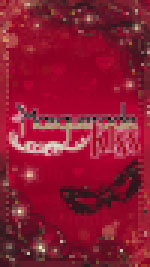 That's it for now in the month of January!
Interested in this month's goodies?
Access to the V.I.P. Room and its contents is only available after purchasing the Monthly Access Pass within the Love 365 app ($8.99 USD). Head on over to the app and tap "V.I.P. Room" on the Menu to either access the content or to subscribe and become a Monthly Access Pass Holder!
*Make sure you read all terms, conditions, and question answers before subscribing.
Happy playing!