Update 5/23/19: Limited Run #229: London Detective Mysteria ($39.99 USD) and Limited Run #229: London Detective Mysteria Soundtrack Bundle ($54.99 USD) are now up on the Limited Run storefront. Each page has a countdown clock set for the first order batch, which is at 10am on May 31st. Each one has a purchase limit of two (2) per customer. The physical cartridge for the game only has 2,800 copies available, with only 400 of those coming with the soundtrack bundle.
Earlier today, Limited Run Games announced on Twitter that it would be releasing London Detective Mysteria as a limited physical run next Friday, May 31st at 10am & 6pm EDT.
Her Majesty's birthday was to be the heiress of House Whiteley's debut into high society, but an inquiring mind begs for more than parties as she stumbles into the many curiosities that lay hidden in London's darkest corners. Help sharpen her instincts as a detective, take control of her present to uncover her past, and form an unbreakable bond with one of many dashing personalities from well-known works of fiction.

From PlayStation Store
As someone unfamiliar with LRG, I can't say I know how this works. But judging how by the House of Fata Morgana pages are showing, the store page for Mysteria will be released closer to May 31st with a "coming soon" statement and a countdown clock. There will be two times to pre-order, which are the times stated above. If this does follow Fata Morgana, as they are both opening on "Visual Novel Friday", it would be safe to assume that shipment won't be going out until July.
I've seen there being questions about a Limited or Collector's Edition of the game, but LRG has yet to suggest that there will be one. Others have asked for the release to have a purchase limit, of which LRG has not announced either.
Follow Limited Run Games on Twitter to stay up to date on the release news and, hopefully, when the orders open up.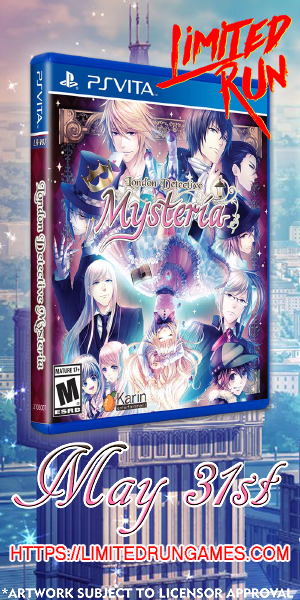 Happy playing!