Update: Purrfectly Ever After is now on Steam Greenlight! If you'd like to play the game on Windows or Mac, go give it a vote!
The heroine is a cat in a retro-futuristic world who loves good food and, with her fellow animal friends, is willing to do anything for it. Namely, stealing. She also happens to be the gang leader. Their activities disturbed the lives of people in the city to the point that the authorities decided to take action. One day, her best friend is taken hostage in hopes of luring her out. Taking the bait, she goes ahead of the pack to rescue him, meeting with a few good souls who saved her from trouble along the way. After the rescue mission, she realizes that her selfishness of stealing food has brought harm upon her friends and thus she decides to disband the group. To earn food honestly, she wishes to become a human. Her prayers were answered by an unseeming Fairy Godfather on one condition – that she would never steal again. With her immediate agreement, she is turned human. Now, as a newly-turned human, all she needs to do is find her bearings in this brave new world. And who better to help her than those who saved her earlier on?
Purrfectly Ever After is an upcoming English otome game by new indie visual novel developer, Weeev. With Purrfectly Ever After, Weeev aims to bridge the gap between Japanese-centric otome games, told in a not-so-Japanese point of view and storyline.
As stated by Weeev:
"We want every girl (or guy) to be able to relate to the story. Our aim is to be on par with the likes of other otome game giants such as Voltage, Otomate and Rejet and we strive to provide the best storyline, artwork and most importantly, experience to our players. We want you to gasp at a twist, smile at a sweet moment, but ultimately, we want to touch your heart with our stories. One of the efforts to enhance the gaming experience is to have the in-game dialogue voiced with Japanese voice actors. We put a lot of thought into quality control over the artwork, so we hope that you'll give us a chance to share our stories with you."
In order to give the product that Weeev wishes, they need a sum of AUD 9,700, approxomately USD7,555. Kickstarter has helped visual novels get successfully funded in the past, and Weeev hopes to achieve the same success.
Game features include:
5 characters to choose from (6 if the hidden character milestone is acheived)
2 types of endings – Romance and Destiny
10 possible endings
Approximately 40hrs+ of gameplay
Japanese voice acting
At least 5 event CGs per character route
Available in 2 languages: English and Japanese (a 3rd will be included as a stretch goal)
Immersive soundtrack
Character routes will be released one at a time
Available in iOS and Android
FREE English iOS demo available for download, please register here and they will send an invite to you
FREE epilogues and exclusive early access before the official release for SALAD and above backers only
FREE hidden character for ENTRÉE and above backers only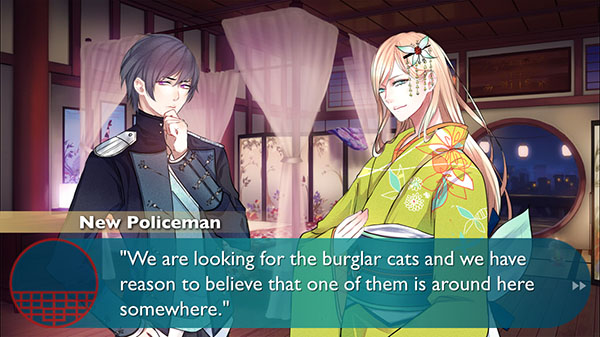 The game will be commercially available for iOS and Android devices (mobiles and tablets) from October 2015 at USD3.99 per character main story. Each character's epilogue package costs USD1.99. A package contains epilogues for two relevant ending branches, Romance and Destiny. Subsequent stories will be charged accordingly. Stories will be released by stages and by characters. The demo is in beta stage and currently only available for iOS.
Staff:
Sue Anne – Creator/Writer
Chan Paey-Lun – Programmer
Soemei – Character Designer & CG Artist
Badriel – Background Artist, supported by Sendo and Jake Bowkett
Shuh Fei – Editor
Teza – Musician
AshmooN – Japanese Translator
Joling – Chinese Translator
Crystal – Promo Video Editor
VA Cast:
Sirius – 横割れスプーン
Yoshino – 山原 水鶏
Cassian – <冬沙悠
Kofuji – ひげ太郎
Kale – 神崎智也
Bucky – あきら(demo only)
Read more about the project:
Follow the development on Tumblr: purrfectlyeverafter.tumblr.com
Fund the Kickstarter: http://kck.st/1H5IYst
Follow on Facebook: https://goo.gl/B7Wqwm
Vote on Steam Greenlight: http://bit.ly/1fY3VK3
Happy playing!