This followup to 2004's The SpongeBob SquarePants Movie washed ashore this weekend. SpongeBob, Patrick, Squidward and the rest of the underwater cast are back on the big screen. And just like its debut feature, we're treated to a portion of live-action goodness in the form of 3D CG. Sponge Out of Water had much to prove, however, it falls under the shadow of its predecessor. Given that, this film definitely gives a light-hearted, humorous and enjoyable time with the family.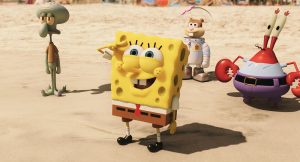 We're first introduced to Burger Beard (Antonio Banderas), a pirate in search for a book, which is responsible for SpongeBob and everyone else's story. A simple addition to the pages of the book has the Krabby Patty formula in wrong hands. Meanwhile, in Bikini Bottom, Plankton continues to chase after the Krabby Patty formula. His attempts with a plane, tank and robot prove to not be enough against the Krusty Krab's condiments. While playing tug-of-war with the formula, it disappears from Plankton and SpongeBob's hands, prompting Bikini Bottom in a post-apocalyptic state. As the citizens turn savages and even practice an Aztec sacrifice (woah, hold on, it's a kid's movie), SpongeBob and Plankton team up to find the formula. With time travel, they stumble upon a dolphin named Bubbles (Matt Berry), who is in charge of looking over the universe. This random and out of place scene feels familiar (so… not so out of place?). In the final act, SpongeBob, Patrick, Sandy, Squidward, Mr. Krabs and a sneaky Plankton emerge onto the surface in search of the Krabby Patty formula.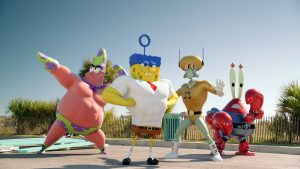 The SpongeBob Movie: Sponge Out of Water is definitely a film for kids, though, adults will find themselves laughing along the stupid, yet clever jokes. The first two acts give us classic SpongeBob and the animation looks even better on a big screen. Its final act renders them as CG superheroes, a step up from the first film. Although the lack of some characters were a slight miss, the witty humor and Plankton's horrifying venture inside SpongeBob's mind are top-notch writing by Glenn Berger and Jonathan Aibel. Plankton and SpongeBob's number of "Teamwork" was another miss and incomparable to their previous duet in "F.U.N Song". Occasionally, it felt as if I was watching another episode of the 189+ episode cartoon. An honorable mention to Antonio Banderas, who plays a frivolous and flaky pirate quite well.
To sum it up, Sponge Out of Water is a must-see for all SpongeBob fans, young or old. A reminder, as this has a targeted audience and reviews turn out biased. If your kids need a break from schoolwork this weekend, their favorite sponge awaits them in theaters.


Review and rating based on the Animated feature genre.