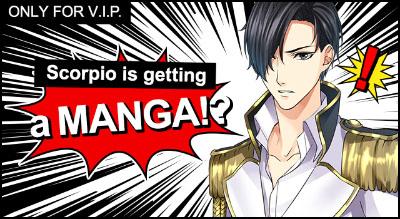 Wondering about whether or not this month's Pass is worth buying?
Voltage has updated this month's VIP Room again a survey centered on an upcoming manga featuring Scorpio as a father. The survey asks players to choose a name that would fit Scorpio's and their daughter, and will close on the 30th of July.
Rules of the baby name are:
Must be a girl's name.
Must be English. (No foreign characters or symbols.)
Must relate in some way to stars/constellations.
The questions in the survey are:
What would you like the name of your and Scorpio's child to be?
Why did you choose this name?
That's it for the month of July!
Interested in this month's goodies?
Access to the V.I.P. Room and its contents is only available after purchasing the Monthly Access Pass within the Love 365 app ($8.99 USD). Head on over to the app and tap "V.I.P. Room" on the Menu to either access the content or to subscribe and become a Monthly Access Pass Holder!
*Make sure you read all terms, conditions, and question answers before subscribing.
Happy playing!