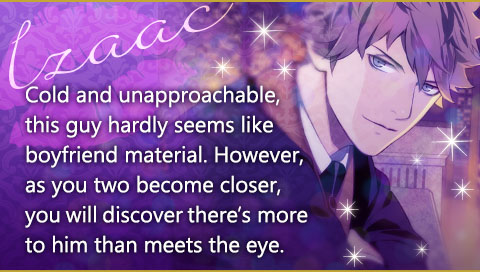 (Please take into consideration that I haven't completed this route using this guide, but these answers should be correct. If they are not, please feel free to let me know so that it can be corrected.)
Note about selections: There are two choices for each selection. The answers below should give you the most points each. Keep in mind that not all of the best answers will give you 3 points, so some will either give you 2 points or 1 point. The lowest you can get is 0 points, though none of the answers below should give you anything less than 1 point.
Episode 1: Show Me the Way
1: Go home.
A: "No way!"
Episode 2: All Eyes on Us
A: Return to the party.
B: Hang up.
Episode 3: Playing with Fire
A: Of course.
B: Go for the guy with blond hair
Episode 4: Right or Wrong
B: Let her go.
A: Answer honestly.
Episode 5: Judgment Calls
A: I like feminine, girly clothes.
B: Refuse to talk to him and hang up.
Episode 6: More than Meets the Eye
A: Go with Izaac.
A: Go to the party.
Episode 7: A Broken Heart
A: Call Serena for advice.
B: I don't know. Probably not.
Episode 8: Keep it Together
B: Go home.
B: Keep quiet.
Episode 9: Chivalry, Manhattan Style.
A: Yes
B: Decline.
Episode 10: Can't Argue the Facts
B: It would definitely bother me.
A: Go talk to her.
Episode 11: Come Closer
B: Refuse the invitation and have dinner at home.
A: They're kinda similar. (*The first choice)
Episode 12: Caught under the Spotlight
A: I did think about it.
A: Give it a try.
Episode 13: Collateral Damage
A: "Yeah, ever since I was little."
B: Call.
Episode 14: Ghosts of the Past
A: Ask him.
B: Go by myself.
Episode 15: Second Chances (Super Happy End)
No selection
Episode 15: Future Perfect (Happy End)
No selection
Epilogue: Mayday
No selection