Please keep in mind that I have yet to complete everything in the event, so edits and corrections will be made once I come across it during gameplay or when someone is kind enough to inform me.
1. Basics
The event is from 9/24 to 9/30 8:00 A.M. (UTC).
Wilfred, Keith, and Roberto are available.
Each route consists of three (4) Stages

Each stage consists of five (5) episodes.

There are two (2) endings: Happy End and Secret Happy End.

In the Secret Happy End, you will spend it with the Prince of your choice.
In the Happy End, you will get to play as and read the point of view of the Prince.

You DO NOT need Love Passes to advance the story.

Instead, you will have to complete missions in order to advance in the story.

Missions consist of both Love Factor missions and Avatar item missions.

You can only raise Love Factor by going on Event Dates.
When you Double Date with an Event Mate, it will increase your Charm. When a Mate invites you on a Date and the Date is successful, you will get 5% of the Love Factor from that date.
When you become Event Mates, 10% of that player's Love Factor will be added to yours for Dates.
You can not stop being mates once you approve an event mate.

The Event Dates use 1/5 Strength.
The ending you are able to choose depends on your Personal Love Factor.

Personal Love Factor is the Love Factor you raise while playing your chosen route. Personal Love Factor will not be carried out into the next route you choose and will be reset when you complete a route. You will start with 0 Personal Love Factor each time you start another route regardless of your completion status of that route.
Total Love Factor is the Love Factor that you have raised from playing the routes in total. You can view it from your Event Mates or Ranking pages.
Team Love Factor is the Love Factor plus 10% of the Love Factor from your Event Mates.
If you do not reach the Secret Happy End, you can still raise your Love Factor to get it before you choose an ending.
No matter which end you choose, you will have to replay the entire route to choose the other end.

Once the event ends, you will not be able to read the story anymore.
2. Completion Items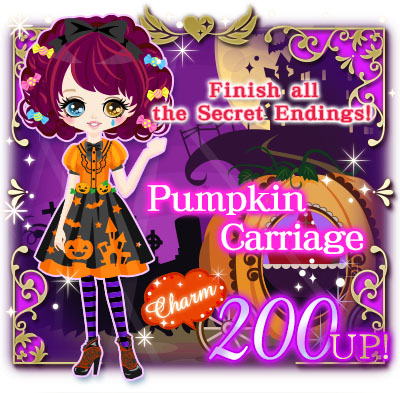 When you complete each ending, you will receive a completion item for the event.
If you complete all Secret Happy Endings with all three (3) guys, you will receive the Pumpkin Carriage background (+200 Charm) for your avatar.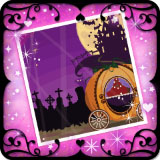 There are two Early Clear Bonuses.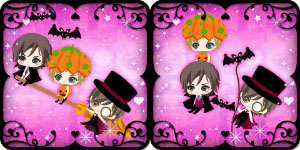 Upon completion, you will get
Flying Broomstick Princes avatar item for completing 1 Secret Happy End by September 25th 7:59 (UTC)
Royal Treat Trio avatar item for completing 2 Secret Happy Ends by September 27th 7:59 (UTC)
3. Halloween Town Shop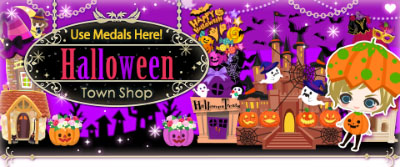 Unlike previous events, the Town Gacha has been replaced with the Town Shop. You can use only Gacha Medals to purchase the available Town Objects, Spots, Love Factor, and Pasta. Each Town Spot including a special Date Story, and the Princes will visit you when you place the Town Spots in your Town.
*Note: Gacha Medals earned through this event will be carried over to the Kisses Behind the Masque event. Prizes will also be carried over.
You can get
Pumpkin Vase for 24 Medals each
Witch's Hut for 150 Medals
Masquerade Shop for 150 Medals
Halloween Treat Shop for 150 Medals
Halloween Castle for 550 Medals
4. Ranking
The ranking goes by your Total Love Factor.
The reward for ranking in the Top 200 by the end of the event is a Halloween Treat Gown avatar item (Charm: 200).
5. Guide
As far as I can tell, this guide is accurate. However, since I have not played through the whole route yet, please let me know if there is a mistake.
| | | | |
| --- | --- | --- | --- |
| | Wilfred | Keith | Roberto |
| Stage 1 | A: He can wait. | A: It suits you a little too well… | A: "Can we dress up together?" |
| Stage 2 | A: Show him the costume. | A: Say something. | B: Ask him to dance. |
| Stage 3 | A: Make a break for the pumpkin! | B: I want more confidence. | A: Call Roberto. |
| Happy End | A: Shall we take a picture for you? | A: Hug her from behind. | A: Try to free yourself. |
| Secret Happy End | A: Trick-or-treating. | B: "Tell me why we're here." | B: Give Cynthia credit. |
That's all I have for now. I think I managed to squeeze everything in here. OTL If I have missed something, information is out of date, or information needs to be updated or fixed, please feel free to let me know and I will do the necessary changes as soon as possible. If you have any questions, please feel free to ask in the comments and I will try to answer them the best I can.
Happy playing!