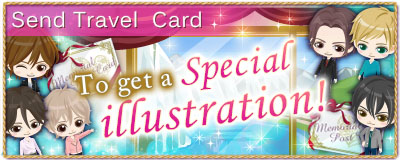 Travel Cards are now available for purchase and sending in Sleepless Cinderella: PARTY! They are available from August 16th to November 2nd 01:59 (UTC).
Buying and sending the Card will allow you to get a reply from the respective character. Included with the response will be a limited mini-story story and a special illustration.
Each Card costs 3 Gems and are limited to only one (1) per person.
How to Send Cards
Tap the button that shows "3" next to a Gem to pay 10 Gems for the card. Once you've bought the card, it will automatically be sent.
After sending the card, wait for their reply. The reply should come immediately after sending the card.
Happy playing!