A new Perfect Clear Bonus is now available!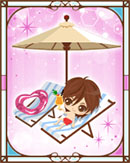 During the Perfect Clear Bonus, you will have the chance to receive a Mini-Yamato on the Beach avatar item worth 150 Charm that will allow you to win 2x Mari when wearing it during the Summer Romance Event. To receive the avatar item, the following conditions must be met:
 GET All 6 Happy Ends during the Summer Resort Event (?)
 GET Final Present in the next Summer Night Miracle Reform Campaign
 GET Both Happy Ends during Yamato's Mini Event
If you complete all three conditions, you will receive the Mini-Yamato on the Beach avatar at the end of July. You must be wearing the avatar item to get the 2x Mari and will only apply to the Summer Romance event.
You must exchange your CP Points during the Summer Night Miracle Reform Campaign and receive the final present to complete condition 2. Even if you have collected all CP Points during the event, if you do not exchange them before the ending time, it will not fulfill the condition for the avatar.
Happy playing!