Lets take a look at this recent update that marks the end of the Lunar New Year event and brings us some fixes to bugs and a new feature to the dye system.
Features and Content – Lunar New Year
The Lunar New Year has ended and along with it, some of its features:
Finolla (Inventor of Dragon Ball) and Phaedra (Lunar New Year Vendor) have left Divinity's Reach. Dragon Ball is no longer accessible
Celebration Firecrackers have been removed from Divinity's Reach and the WvW Citadels
The Memories of Home effect has been removed
Lunar New Year food items no longer provide magic find bonus. Their other effects still apply
Quartermasters in WvW maps no longer create fireworks when they spawn
Lunar New Year daily achievements and bonus rewards are no longer available
Balance, Bug-fixing, Polish
Fixed recently introduced audio bugs
Moved the miniature collection achievements to the Basic Collections category. Selecting a miniature collection will now display the missing miniatures
Fixed a bug that prevented the Griffon Mail Carrier's sound effects from playing
Added the Randomize Finishers option. Select this box to randomly choose from any unlocked finishers (including single use finishers) to stomp your foe
Introduced the ability to see locked dyes in the dye tab in the Wardrobe. Players can now preview them on their characters. A great way to see the dyes and determine which ones you like!
Black Lion Trading Company Gem Store
Chickenado Finisher available in the Upgrades category of the Gem Store for 800 gems
Lord Faren's Rapier Skin is available in the Style category of the Gem Store for 500 gems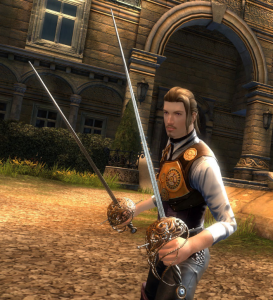 I don't know about you guys, but I'm seriously considering that Rapier skin!