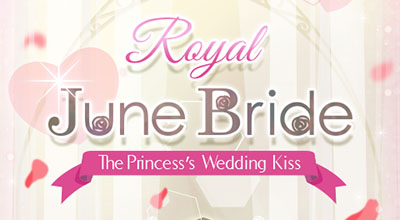 Here comes another event! For those wondering: This is another event that had already been released in the original Japanese version, but never had an English release. Thanks to the success of the Princess of Nobel Secret Date Campaign, an additional route for Zen has been added with a Normal End with Yakov, which is brand new to the event and was not release in the original Japanese version. It should be noted, though, that Zen's CG for this event is not new. Instead, the CG was previously used in the app version and is ust altered to fit the event.
Here's what I know so far:
All six princes and Zen will be available, making a total of seven routes.

Each will have four stages.
Each will have two endings: A Happy End and a Secret Happy End.

In the Secret Happy End, you will spend it with the guy of your choice.
In the Happy End, you will spend it with the Butler.
Because the Happy End switches back to the Butler Ends as they were in the GREE version, the Prince's PoV's will not be available by completing either or both endings. Instead, you will have to buy them as Epilogues using Gems once you clear the Prince's Secret Happy End. You must clear each Prince's Secret Happy End in order to unlock their individual Epilogues in the shop (ex. clear Wilfred's SHE to unlock Wilfred's Epilogue). Once bought, the Epilogue story will be found in your Story Album.

Event Battles will use the same system as previous events. You will be given a chance to win Gacha Medals when going on a certain number of Event Dates.
Following the above, there will be a June Bride Town Gacha. Like any other previous gacha, the first spin is free. You can use either Gems to spin it or the Gacha Medals that you received by going on Event Dates or clearing Event Missions. You can receive wedding-themed Town Spots and Objects, Love Factor, and Stamina items from it. When you place the Town Spots in your Town, the Princes and Zen will come to visit. Each Town Spot also comes with its own Story.
Two backgrounds will be available as Completion/Bonus Items. If I am correct, one is a brand new background that was not released on the GREE version. You will get the one background by completing all Secret Happy Endings and the other as a Ranking reward.
The Early Clear Bonus and Ranking rewards are wedding-themed versions of the mini-Princes avatar items, with each one having three Princes on each prize. The other Ranking reward is a Mini Zen in the same theme.
I still don't know much, but I wouldn't put it past Voltage Inc. to begin the event very soon after the current Event ends (even though Love Tiara players got a bit of a break). I'll update again if I get more before it starts, but no guarantees. I will post the guide in the Be My Princess: PARTY Guides page under the Current Event Guides section when I can and will leave it there until I can get the Event Info post up, so be on the lookout for it!
Happy playing!